TE-Reader is an app to read news feeds from a TinyTiny RSS instance on your mobile device. Not just a simple android port. Share interresting articles, mark them as read/unread, "publish" and "star" them. Or simply add new feeds to your server installation. Just copy the url to the clipboard and hit "Add feed". Available system wide sharing options are possible too of course.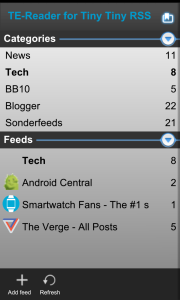 "Tiny Tiny RSS is an open source web-based news feed (RSS/Atom) aggregator, designed to allow you to read news from any location, while feeling as close to a real desktop application as possible."
Get it from: tt-rss.org
TE-Reader was developed by Marcel Meissel and Henk Jonas. It wouldn't have been possible without the contribution of Henk Jonas. Thanks Henk for your assistance and work!
Published for:
Very soon to be available for FireFoxOS
Soon to be available for PlaybookOS
Soon to be available as Chrome Extension
TE-Reader on the web: